Snickerdoodle Bread for the Great American Bake Sale
Like the Snickerdoodle cookie this bread has a crispy cinnamon sugar topping with a sweet, buttery interior. But I've added another layer of cinnamony goodness by adding cinnamon to the batter and loading it with luscious cinnamon chips.
One of the breads that I'm selling at the Bake Sale (info below) is a scrumptious new quick bread recipe I created Snickerdoodle Bread. It has the tangy sweetneess of a Snickerdoodle cookie with a moist, bet-you-can't-eat-just-one-slice, interior.
Updated 4/2013: I've tweaked my Snickerdoodle bread recipe a little bit so the loaves rise even better into the classic quick bread dome shape. So now with the addition of one more egg and a bit more flour, your Snickerdoodle bread will look even more irresistible.
Snickerdoodle Bread
Ingredients:
3 cups all purpose flour
2 teaspoons baking powder
1/2 teaspoon salt
2 teaspoons cinnamon
1 cup butter, softened
2 cup sugar
4 eggs
2 teaspoons vanilla
1 cup sour cream
1 1/2 cup cinnamon chips (1 pkg. Hershey's)
2 tablespoons flour
2 tablespoons sugar
2 teaspoons cinnamon
Directions:
Preheat oven to 350º Spray the bottom of five mini loaf pans (5 3/4 x 3 1/4 x 2 ¼) with cooking spray with flour.
In a medium bowl, whisk together 3 cups flour, baking powder, salt and cinnamon. Set aside.
In a large mixing bowl, cream together butter and 2 cups sugar, until fluffy, about two minutes. Add eggs one at a time mixing well after each addition. Add vanilla and sour cream and mix to combine. Add flour mixture and mix just until combine. Do not overmix.
Coat the cinnamon chips with 2 tablespoons flour and stir into batter.
Spoon batter into greased pans (Don't fill more than 2/3 full.)
Combine 2 tablespoons sugar and 2 teaspoons cinnamon and sprinkle over the top of the batter in the pans.
Bake for 35 to 40 minutes until a toothpick inserted into a crack in the center of the loaf comes clean. Remove from oven and let cool 10 minutes before removing from pan. Remove from pan and let cool completely before serving.
You can also make this in two 9×5 loaf pans. Bake at 350º for 60 to 70 minutes or until a toothpick inserted into a crack in the center of the loaf comes out clean
The first ever National Food Bloggers Bake Sale, which is part of the Great American Bake Sale. We are raising money for Share Our Strength (SOS), a national organization fighting to end childhood hunger in the United States.
"All of us have at one time or another experienced hunger. We've all craved a midnight snack, wanted something salty or needed some chocolate. But there's a big difference between trying to satisfy a brief craving or stomach growl and wondering where your next meal will come from.

The reality is that nearly 17 million children in America—that's almost one in four—face hunger. And it's likely that these children will endure lifelong consequences as a result of having limited access to nutritious foods."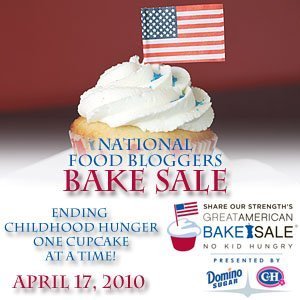 So here's an easy way to make help a difference and eat tasty treats from some of the best food bloggers in the state. Maria, Two Peas and Their Pod, is hosting the Salt Lake City Food Bloggers Bake Sale at Dan's Market, 1360 So. Foothill Blvd, on Saturday, April 17, 2010, from 10:00 a.m. – 2:00 p.m.
Salt Lake Bakers that are participating in the bake sale include:
Maria from Two Peas and Their Pod
Becky from Utah Loves Cupcakes
Tiffany from Food Finery
Barbara from Barbara Bakes
Dara from Cookin Canuck'
Becky from Vintage Mixer
Krista from The Double Dipped Life
Frieda from Lovin' from the Oven
Cristie from The Table Runner
Vanessa from She Craves
Gabi from The Feast Within
Alicia from The Kichenista
Laura from Rather Be Baking
Ginny (no blog, but she's baking and donating some amazing cakes!)
Koo De Ker
Sweet Tooth Fairy Bakery
Becky, Utah Loves Cupcakes, is hosting an Orem Food Bloggers Bake Sale at Shirley J's at 15 East 400 South, from 10:00 a.m.-2:00 p.m.

Bakers for the Orem Sale:
Becky (me) Utah Loves Cupcakes and Project Domestication
Traci -www.healthydealsnsteals.com and www.burntapple.com
April – Sweet Life in the Valley / Crazi Beautiful
Catherine – Fahrenheit 350*
Jen – Delightful Delicacies
Deborah – Taste and Tell
Sarah – Red Head Recipes
In addition to my Snickerdoodle bread, the other two quick breads I'm selling at the Great American Bake Sale are Pumpkin Chocolate Chip Bread and Chocolate Chocolate Chip Bread. I'll post those recipes next week.